I was invited to participate in the EVER EXPANDING BLOG POST by Christina Kosinski, a former Study intern and very talented artist. Her beautiful ceramic pieces (some of which I'm proud to own) are shown below. The post is a self-interview by a series of artists, makers and designers who ask themselves the same 4 questions and then pass the interview on to other creators they respect. Like a "chain letter that isn't emotionally manipulative or a pyramid scheme", according to one of my torch bearers. Yeah, just like that.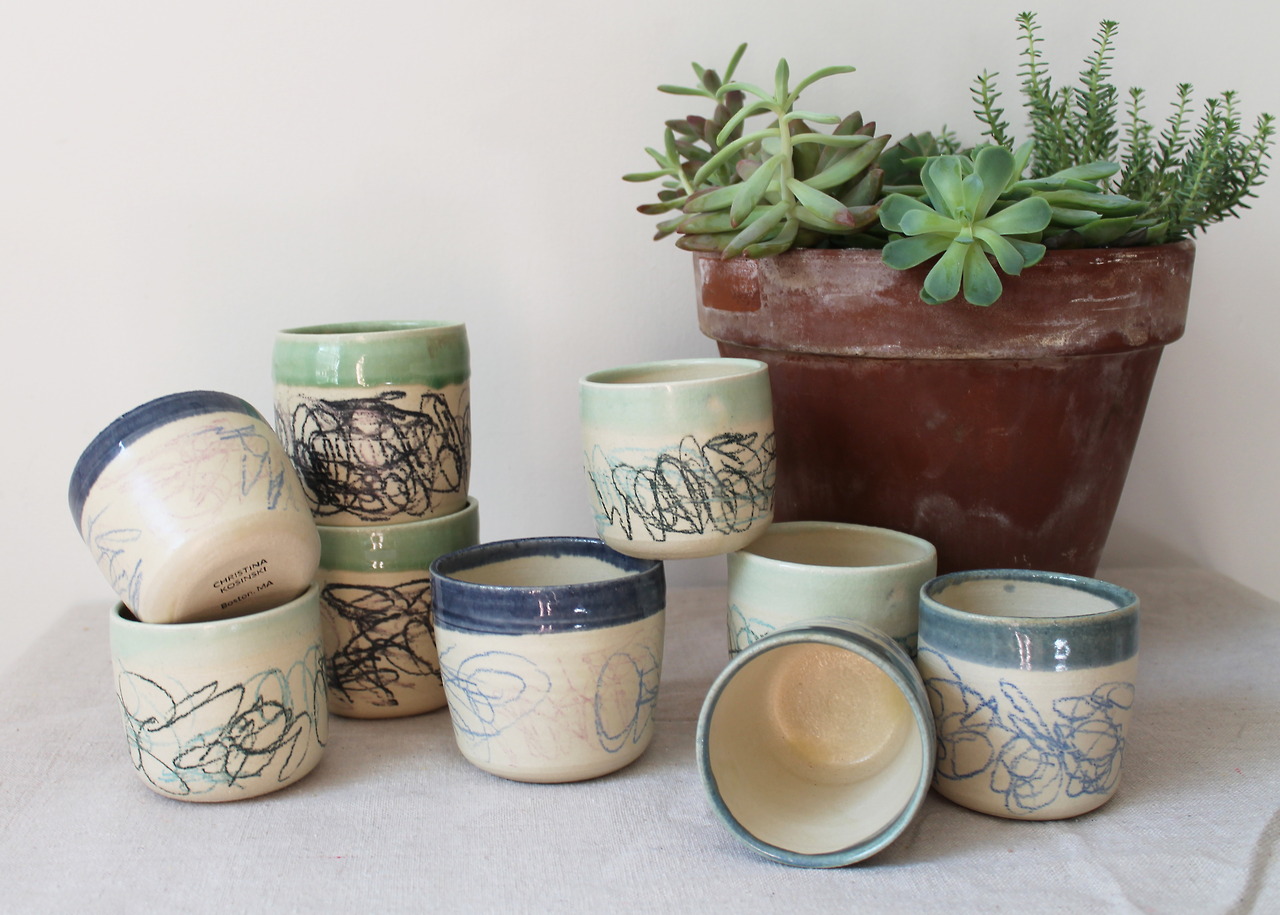 Monday is as good a day as any other for a little introspection and self examination, right?
What am I working on?
I'm working on a really exciting collaboration with photographer & collage artist Caroll Taveras who creates amazing Dali-esque surreal collages using her own photography mixed with other images. Caroll wanted to see her images printed on textile so she scanned them and had a few digitally printed in large scale. She then approached me to help transform the printed textiles to wearable pieces. The resulting 5-look capsule collection, which will be released in September, uses zero-waste pattern cutting to maintain the integrity of the prints.
How does my work differ from others of it's genre?
I love the functionality of clothing, I think people should have fun getting dressed, and be able to play with the shape and form of their outfits. I make a lot of convertible clothing for this reason. I don't want to dictate how people wear the clothes I make, instead I prefer to offer them well made, convertible pieces and let them play.
Why do I create what I do?
This question has the most impact on my life and work, it's something I ask myself almost every day. As an ethical designer I tend to over analyze what I'm producing, and why. I find myself overwhelmed by the amount of product on store racks, and the sheer quantity of waste in the textile and garment industry, usually this results in a wave of guilt washing over me during which I question why I arrogantly insist on producing more. And then I take a deep breath and realize I was born to design, it makes me happy and the world needs more happy people. In particular I love the challenge of clothing design: finding appropriate textiles, creating new silhouettes for the human body, solving manufacturing problems, these are all fun for me. In a nutshell, I choose to design sustainably because it is the only solution I have found for this love-hate relationship I have with creation vs. production.
How does my creative process work?
Most of my inspiration stems from textiles, so I start my creative process by sourcing fabrics from around the world. I work with hand weavers in India, knitters in Peru, digital printers in North Carolina (shown below) and stock fabric resellers in New York, as well as distributors of sustainable textiles from China, Japan and India. Once I have found or created a fabric I'm excited to transform, then I start to sketch, and convert the textile to something wearable.